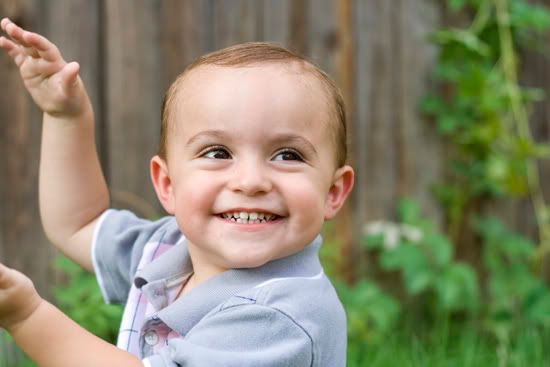 This Picture was taken by
OneHM
a few Months ago. We went out to have a fun little
friends
photo shoot & I've just now got the CD back filled with all sorts of Pics like this one. I love it!!! Thanks Ashley for being such a fun photographer and Friend!
In other news, today we went to the park for Toms cousin's birthday. He loves playing with other kids, especially his cousins. It was great also because we left there without any cuts or bruises. Yeah! That's always nice!
Anyway, I've been keeping myself busy trying to get things done around the house before this baby comes. Tyler has been such a great help also. He painted our bedroom last weekend, the other night we took the crib apart and moved it to the baby's room. Then brought Toms' new bed into his room. Tyler has spent each night since sleeping on the most uncomfortable bed just to get Toms comfortable and used to his own big boy room. I'm afraid he's gonna need to do this EVERY night for a long time! We may end up putting a full or queen size bed in there so Tyler can start to get a good night's sleep again.
The baby's room is coming along nicely. My curtains are done, we just need to paint. I bought some bedding last night that may work, I'm still deciding. Hopefully Tyler will start the painting process tomorrow, we'll see.
So I'm feeling pretty good. I had a Dr.'s appointment the other day and I'm measuring right on track to be due on the 17th of March. WOW, it's coming so soon, yet not soon enough, you know. My hips are KILLING me! All I want to do is lay around all day but napping makes them hurt even more. Then at night I get my second wind and work on stuff all around the house. I am organizing and putting things away, getting every room ready for this new venture in our life.
Our bedroom is looking so cute, I'll post pics when I'm done, we are slightly redecorating. Toms bedroom is pretty much the same but I've made a few minor changes that I will also post when done. I am getting rid of SO much stuff and will have a "Girls Night Yard Sale" in the house when I get it all organized. I'll let you all know when that is. Hopefully soon, I really want to get ride of this huge pile of stuff that is gathering in my Living Room.
Hope you all are having a good day. I have Bunco tonight and I'm so excited to see all my peeps!
Molly
is hosting it, so I know it's gonna be fabulous! Have a good night and we'll talk to ya'll soon!
{P.S. We are still deciding on a name for this little girl, so I am ready now to see what you all think. So make sure and cast your vote on my side bar.}