So it's a little late, but that's just how I roll. Always a little late, but eventually I get it posted.
Anyway, on Friday we had a great evening with the girls at Bunko. I just love hanging out and chatting til all hours of the night. It was super fun and very yummy food! Thanks
Ashley
for being such a gracious host this month!
Then on Saturday I had my Funky Silhouette class at
Blissful living
. It went great, I had 5 very fun and darling students attend and this is what they all made.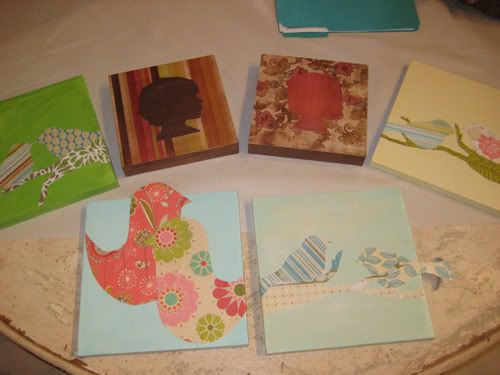 So cute, huh!

Then Saturday evening I went to the broadcast with my Mother-In-Law & Sister-In-Laws. It was a great broadcast, and very uplifting. Then I headed home and picked up the boys to head over to
Tempe Marketplace
with most of Tyler's fam. We had some yummy dinner at
California Pizza Kitchen
then walked around enjoying the scenery, people and fun. Hope decided to buy Toms a new ASU jersey, Hat & Baseball/Bat for his Birthday gift. He was so excited and looked so cute!!!
Then we went into
Dave & Busters
to play some fun games and celebrate Nate's Birthday. He had some friends with him and they all had a blast. It was lots of fun and finally we called it a night and headed home to go to sleep. A very Busy day!
Then Sunday was just like any other Sunday. Church then Dinner with the In-Laws. This week it was at the Dale's casa. Fun, but always crazy! Toms just loves playing with all the kids. He gets such a kick out of all the commotion!

Monday was Toms 2nd Birthday!!! Yahoo, I can't believe how fast time goes! He is getting so big and it's just so sad. I wish he could just pause in all his cute stages but I guess that's the reason we have more kids, right. I spent the whole day baking and trying to get the house ready for the masses. I invited both sides of the family over to celebrate over dinner and dessert. It is always crazy with both families together, but I know the kids LOVE it! Especially Toms! He doesn't know just what to think of it all, but he loves the attention!

I was finally able to finish my fun Banner for the occasion, doesn't it look so cute! and I finished making cupcakes and peach cobbler for all to enjoy for dessert. Then around 6 the fun began. We had over 24 adults & 30 kids in the house all at once! WOW, that's just a whole lot of people. But so much fun.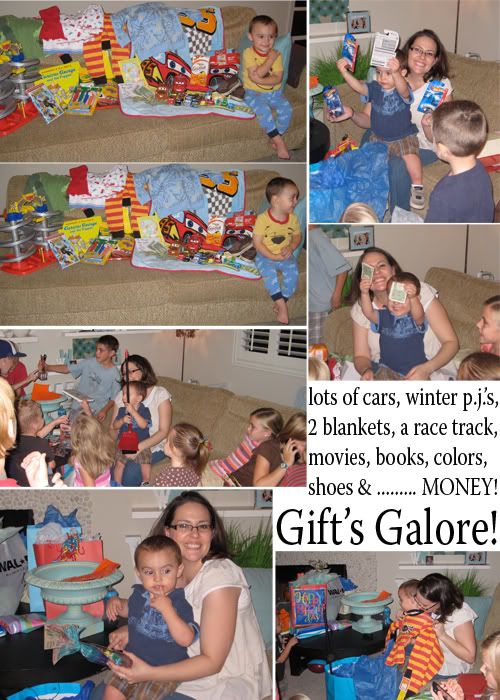 We opened all his fun gifts and then blew open the pinata,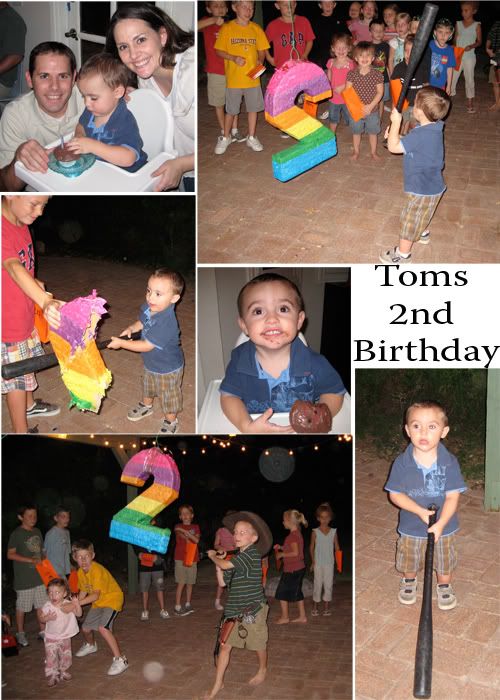 Had cake & ice cream. and just lots of great fun. Thanks to everyone for coming and helping us celebrate this fun day for Toms. He loves all his new stuff and the great memories that were made.

Wow, I've been sitting at the computer for WAY too long now. I need to go and get something accomplished today! Hope you had a great weekend too, and talk to ya soon.

Of course I have to post a video with all this other fun! Enjoy. The best part is in the beginning when I ask him what he wants for his Birthday. I just love this kid!


Some of the highlights include all the kids looking for the Dwight Schrute head in the pinata. Also Toms face when everyone is singing to him. Then later we were taping the cars coming down the track to then play back the tape to see which car won in slow motion. It was pretty funny to watch in slow motion.