Since I've been fairly preoccupied with other things and have been ignoring the poor blog, I thought I'd catch up on all the fun misc. pics of Toms from the past month or so.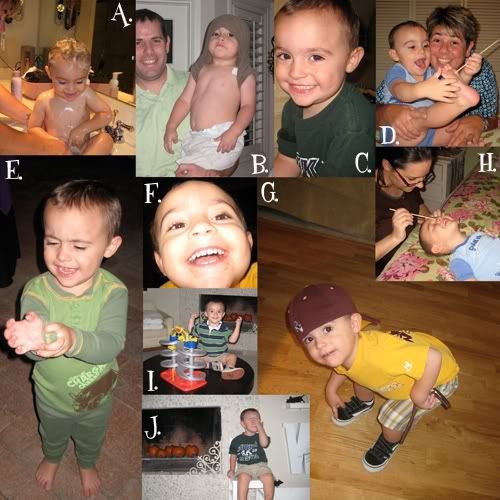 A. Hope giving him a bath in the bathroom sink.  He's a little too big for this, we realized.
B. Just being silly.  He did this himself.  That kid just cracks me up!
C. Toms posing for the camera.
D. Toms playing with my waxing stuff and posing for a pic with Hope.
E. His P.J.'s were bugging him, so he wasn't very happy.  This is the annoyed Thomas I see most of the time.
F. Another silly pic.
G. Game day garb!
H. He wanted to be waxed liked everyone else, so I just did a dry run.  He thought it was so funny!
I. His new Favorite toy, and he loves playing with the race track on top of the coffee table, silly kid.
J. Just being Toms, posing for me on his chair.
What a great little kid, a pill, but still a great boy.