Well, today Tyler's the big "31"!  I know not that big of a b-day but I was trying to surprise him by going all out for it.  Last night Toms & I went to his office {Thanks
Spencer
for letting us in} to decorate it all up with Balloons and pictures.
Then Today we went to his work to bring some WAY yummy cupcakes from
HERE
.  Sugar Mama's Sweets! You MUST try some!!! 
Then we had lunch at
Ned's
together.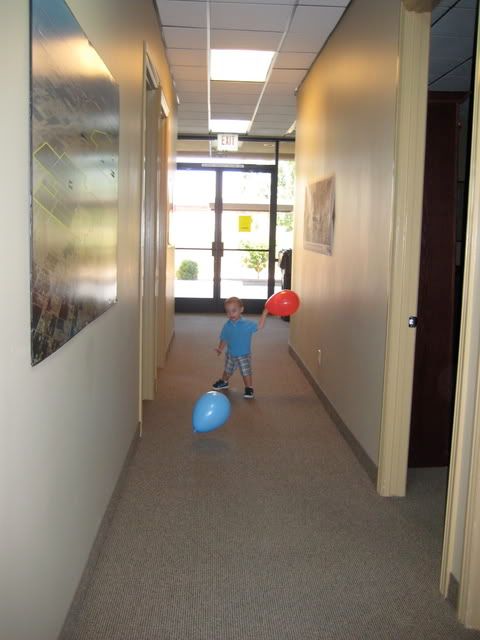 Tonight I am taking him to dinner @
Morton's
Steakhouse with his parents.  Then we are going to hit the mall so his Mom & Dad can buy him some new Sunday Shoes for his gift.  It should be lots of fun!  
I gave in last night and gave him his gifts a little early.  I gave him a
book
that I hear is great and from what I've read so far, it really is helpful.  And of course I had to pretend that that was his ONLY presents!  He's such a nerd and totally was all well then that's what you're getting for your b-day. yada, yada, yada!  Then I put the real gift out on the couch so when he sat back down from putting his "BOOK" away, he'd find another surprise waiting for him.  Well, much to his excitement it was
THIS
new watch he wanted.  It's so not his style, but I love that about it.  It is a little large on his girly wrists but I still think it looks great and he says it's growing on him.  
Anyway, Happy Birthday, Babe!  I love you and hope your day was a very special one!  Thank you for all that you do for Toms & me!  You make such a wonderful life for us and I appreciate all that you do for our little family!  The day isn't over, so hope the rest of it lots of fun as well!!!!