We've been so lucky lately to be able to go out on a few different "Date Nights" with good friends. In August we celebrate a couple of Birthdays so we are always up for dinner to celebrate.
First was
Molly's
weekend of fun. We ate out at the Kierland Commons at a restaurant called "
Bobby's
". It was way yummy! Sorry, no pics from that night.
Then it was Tyler's Birthday so I surprised him with a dinner party at "
Barrio Cafe
" in Phoenix. and can I just say yum! I'm from Phoenix and I hadn't ever been there. What's that about?
Here we all are taking our silly photo that has become somewhat of a tradition. We have so much fun with our peeps. Thanks for making such great dinner conversation. I look forward to going out with them every time. After dinner we headed back to the Theater room for a little catch up of some of "The Office" episodes and some yummy dessert.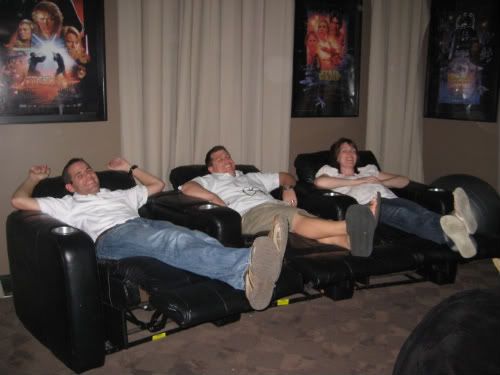 Usually it's me on the left, then Darren in the middle with whoever gets the last chair on the end. This night Tim, Tyler and Molly called dibs first. Here they are basking in their glory!
Then the next weekend we went out once again with
Tim and Molly
, this time to
Spinato's
. One of our staples. It's been a fun Month with lots of date nights. Can't complain about that.
Thanks guys for all the fun memories and great conversations. What's going on this weekend?